— OUTDOOR ROOMS —
Outdoor Rooms and Spaces : Snowmass, Basalt, Glenwood Springs, No Name, New Castle, Silt, Rifle, Gunnison County, and Crested Butte
The outdoor room is a major trend - from Coast to Coast, from Sunbelt through Snowbelt. Homeowners are creating outdoor spaces for cooking, dining, relaxing, entertaining, and doing so much with as much style and attention to detail as they used throughout the interior of their home.
— PREMIUM GRILLS —
The Fireplace Company carries the finest in outdoor grilling products from The RH Peterson Company.
— PATIO FIRE PITS —
Outdoor fire pit tables and campfires add a warm, cozy glow to any outdoor space. A fire pit extends your ability to stay outdoors in the spring, summer and fall, allowing the outdoor living space to be used virtually year round.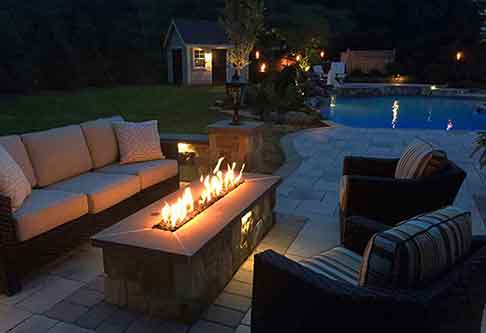 Whether for indoor fireplaces, enclosures and accessories – or extraordinary outdoor fire and fire/water features – our legacy of CSA-certified technology ensures the highest quality and safety for memorable residential and commercial applications.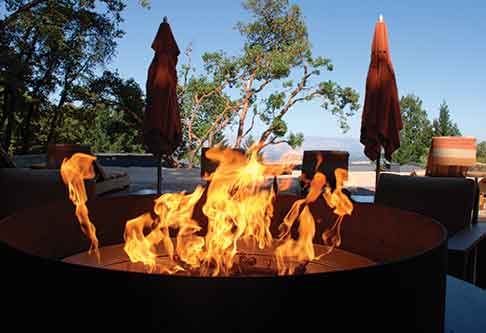 Innovation. Design. Performance. The Crossfire™ Brass Burner by Warming Trends is a distinctive fire pit burner that utilizes cutting-edge technology to produce a taller, brighter, fuller flame. Leading the industry with a highly-engineered, precision product, Warming Trends is the original and only manufacturer of the Crossfire™ Brass Burner.
— CREATE YOUR OWN FIRE PIT —
Create the outdoor living space you have always wanted with an outdoor fireplace kit, wood fired pizza oven, or a fire feature ring.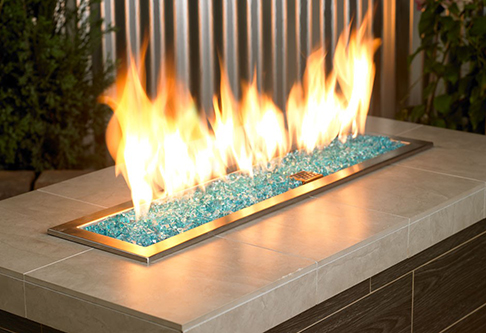 Fire glass is the perfect way to enhance the look of an old fireplace or fire pit and delight visitors at the same time. Available in various shapes and sizes, our beautiful fire glass is made from tempered glass allowing it to withstand extreme temperatures without losing its color, shape, or shine.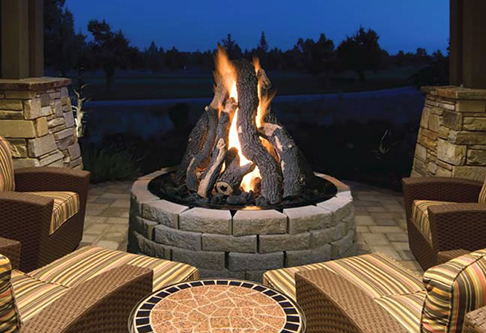 Give your fire pit the look of a real wood fire with highly detailed ceramic logs. Golden Blount has been an industry leader in high-end, realistic looking logs for years and will be the detail that puts your fire pit over the top.
Warming Trends CFB180 Crossfire™
— OUTDOOR FIREPLACES —
Utilize your outdoor living space like never before. Create the rustic, inviting feel of a campfire in the comfort of your own backyard.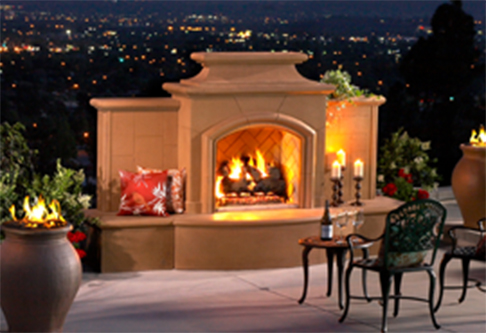 American Fyre Designs fireplaces, firetables, firebowls and fire urns are available in a variety of styles, colors and textures to complement any décor. Each product is crafted from innovative glass fiber reinforced concrete (GFRC).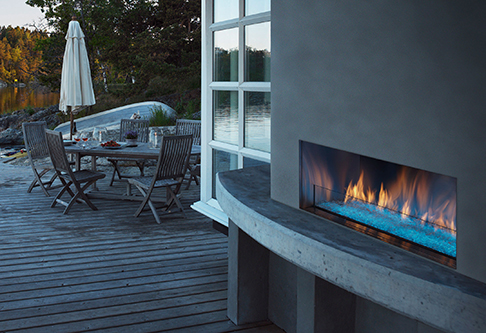 A new kind of outdoor fireplace with a linear design and a clean look that provides a contemporary focal point in an outdoor setting. A tempered glass wind guard keeps the flames full and lively, while an industry-first Power Screen provides safety.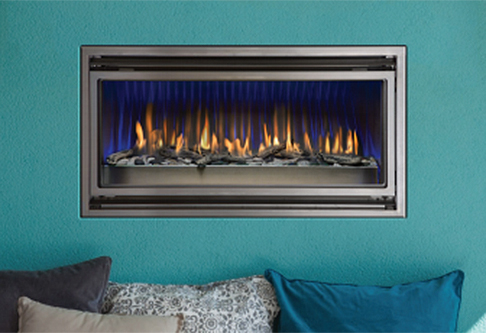 Montigo delivers the perfect outdoor fireplace to suit your style. Innovative design, handcrafted with care, unique to each installation.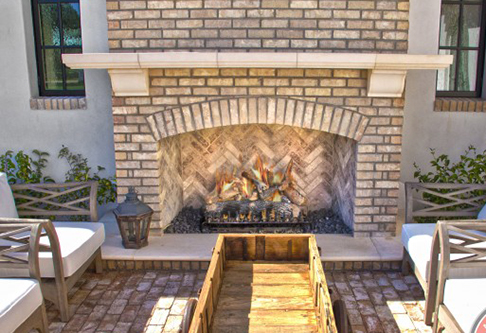 At 25% stronger and 50% lighter than its competitors Mason-Lite is the perfect choice for your outdoor fireplace.Bring a classic and stunning look to your outdoor room.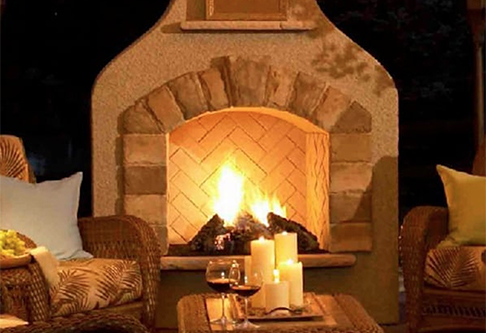 Gas fireplaces are the focal point of any backyard, patio, pool area, or deck and provide style and warmth. Come together and create memories around an outdoor gas fireplace with family and friends!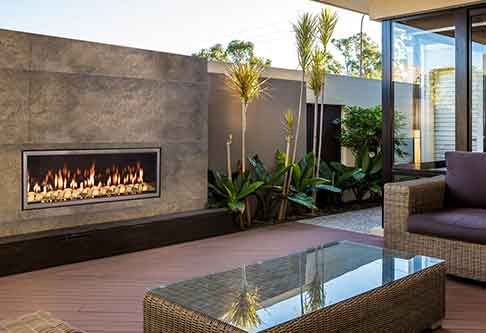 Enliven your outdoor living space with our Outdoor fireplaces. Replicating the authentic look of a full-flame, wood-burning hearth, as a gas fireplace, the Outdoor series integrates stainless steel and ceramic glass to protect itself from the elements.
— SUN TECH PATIO HEATERS —
The Sun Tech Patio Heater is fashioned from polished stainless steel to be durable and reliable and is designed to convert your cold and unused areas into warm and comfortable places for any activity.
— PREMIUM PERGOLAS BY OUTDOOR GREATROOM COMPANY —
Outdoor pergolas do much more than bring all of your outdoor elements together; they bring families and friends together. Whether you choose wood or fiberglass, having a pergola is an easy and affordable way to complete your outdoor room!
— OUTDOOR FURNITURE BY OUTDOOR GREATROOM COMPANY —
Outdoor patio furniture for your deck, backyard, patio, and pool. Get comfortable and settle in around a cozy fire pit table with family and friends!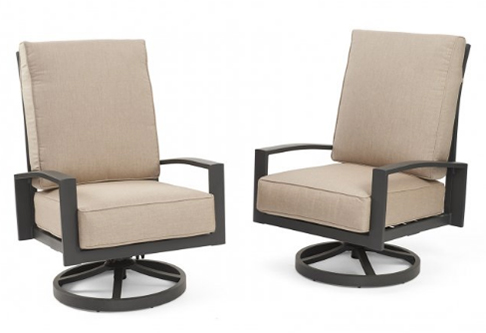 LYNDALE HIGHBACK CHAIR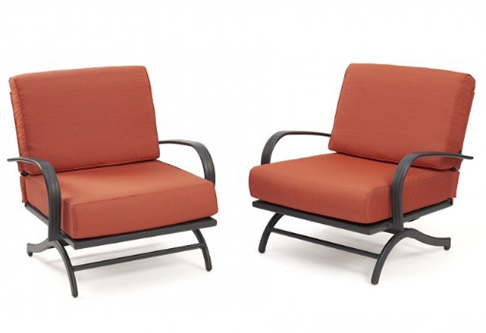 CHAT ROCKING CHAIR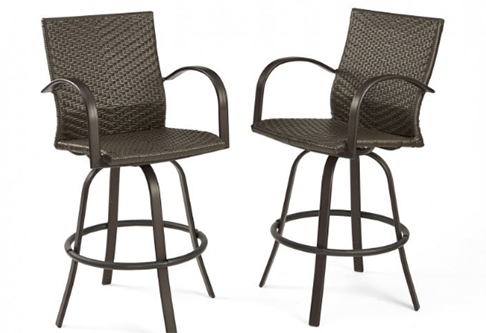 LEATHER WICKER BAR STOOL
Outdoor Rooms and Spaces : Aspen, Snowmass, Basalt, Carbondale, Glenwood Springs, New Castle, Gunnison County, and Crested Butte